Site Home
>
Congratulations to the 2022 Teaching Award Recipients
Congratulations to the 2022 Teaching Award Recipients
Teaching Excellence: Innovation in Teaching
Dr. Nicholas Longo
Professor of Global Studies and co-director of the Dialogue, Inclusion, and Democracy (DID) Lab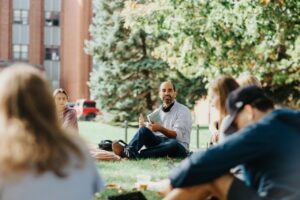 Dr. Nicholas Longo is the 2022 recipient of the Innovation in Teaching Excellence Award. Dr. Longo is a professor of global studies and chair of the department. He also co-directs the Dialogue, Inclusion, and Democracy (DID) Lab with Dr. Quincy Bevely, assistant vice president in the Office of Institutional Diversity, Equity, and Inclusion.
Dr. Longo, who also has taught in the Department of Public and Community Service Studies, teaches interdisciplinary courses that are intended to create spaces for students to bridge differences and engage in real-world problem-solving. Among the recent courses he has taught are Community Lens, Mapping Youth Leadership, Introduction to Global Studies, and a variety of independent studies.
Dr. Longo has recently conducted publicly engaged scholarly projects on civic education and place-based community building with support from the Kettering Foundation, TIAA Institute, and the National Endowment for the Arts. He is also a board member and faculty mentor for College Unbound, an innovative degree-granting college for adult learners in Providence.
Building on Dr. Longo's innovative experiments with teaching across differences, the DID Lab will launch a civil discourse project at PC with support from the Arthur Vining Davis Foundations this fall. This initiative will draw upon deliberative practices for addressing "disputed questions" to create a culture of inclusive dialogue in the curriculum, in student life, and in the local community.
His nominator describes his teaching as follows: "Dr. Longo utilizes his role as a professor to empower students to bring their unique perspectives and lived experiences to the conversation. He enters each space as a learner, recognizing the expertise that students and community members bring to each conversation and classroom." 
Congratulations to Dr. Longo on this well-earned honor.
Teaching Excellence: Visiting and Practitioner Faculty
Dr. Ann Moskol
Visiting Assistant Professor in Mathematics and Computer Science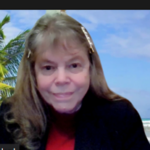 Dr. Ann Moskol, a visiting assistant professor in the Department of Mathematics and Computer Science, is the recipient of the 2022 Teaching Excellence by a Visiting and Practitioner Faculty Award.
Dr. Moskol has taught at PC since 2017. Her courses include sections of Calculus, Introduction to Statistics, Applied Data Analysis, and Introduction to Computer Science. This fall, she will be teaching Software Development.
Dr. Moskol received her undergraduate degree in mathematics from Tufts University, a master's degree in applied mathematics from Harvard University, a Ph.D. in mathematics from the University of Maryland, and a master's degree in computer science from the University of Rhode Island.
Congratulations to Dr. Moskol on this honor!
Teaching Excellence: Adjunct Faculty
Professor Charles Blanchette
Adjunct Faculty in Secondary Education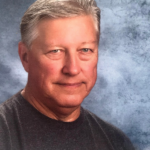 Professor Charles Blanchette, an adjunct faculty member in the Secondary Education Program, is the recipient of the 2022 Teaching Excellence by an Adjunct Faculty Award. The honor recognizes adjunct faculty for excellence in teaching and in promoting enthusiasm for learning.
Professor Blanchette started teaching at PC as a special lecturer in 2002. He has been an adjunct professor of geography since 2005. Prior to his time at PC, Professor Blanchette taught middle school social studies in Coventry (R.I.) for 24 years. He also served on the R.I. Department of Education's Standards and Civics Commission Task Force where he was responsible for writing the state's K-12 standards for civics, geography, history, economics, and political science.
Professor Blanchette received his bachelor and master's degrees from the University of Rhode Island.
Congratulations to Professor Blanchette on this honor!