​Faculty Fellows
Center for Teaching Excellence faculty fellows are colleagues with experience and expertise in key areas of teaching and learning who serve as liaisons to the PC community by facilitating sessions at the CTE and responding to inquiries from faculty throughout the academic year.
Engaged Scholarship
Dr. Nick Longo, Professor of Global Studies & Public/Community Service Studies
nlongo@providence.edu
Engaged scholarship is defined by the collaboration between academics and individuals outside the academy — knowledge professionals and the lay public (local, regional/state, national, global) — or the mutually beneficial exchange of knowledge and resources in a context of partnership and reciprocity. (source: New England Resource Center for Higher Education)
Active Learning Classrooms
Dr. Jeffery Nicholas, Associate Professor of Philosophy
jnichol2@providence.edu
Active learning names any instructional method (typically in the classroom) that requires student activity and engagement in the learning process. An active learning classroom (ALC) is a room designed specifically to facilitate active learning — a student centered room, typically but not necessarily technology, that promotes engagement and interactive learning. I have attended workshops on active learning and ALC, am chair of the ALC Taskforce, and use active learning in my classroom. I invite you to contact me to discuss how active learning fits in your pedagogical toolbox (it fits everywhere! I'm in philosophy) and to build momentum for establishing ALCs on campus.
Global Learning and Engagement
Dr. Tuba Agartan, Associate Professor of Health Policy and Management
tagartan@providence.edu
Global engagement and social responsibility are crucial educational priorities for colleges in a diverse and unequal world. Engaging students in global issues involves incorporating global experiences in the curriculum and creating opportunities that help students discover the intersection between their lives and global issues and explore their sense of responsibility as local and global citizens. I invite you to contact me to discuss how global learning and engagement fits in your pedagogical toolbox and how we can incorporate global experiences in your courses.
Core Curriculum Faculty Fellows
Faculty with expertise in key areas of the core curriculum work closely with the CTE and individual faculty to revise existing courses and develop new courses that meet the core curriculum requirements.
Diversity
Dr. Comfort M. Ateh, Associate Professor of Education
cateh@providence.edu

"The pursuit of truth that animates the academic mission of Providence College cannot be rightly undertaken by individuals isolated from community. Education is not merely an acquisitive process, but a formation of mind and heart directed toward the sharing of the fruits of one's contemplations with others" (Providence College Mission Statement). The increasing awareness of the diversity in our communities suggests the need for shifts in education that must consider difference in our communities as a means to engage students in the pursuit of truth. I am passionate about issues on diversity and as the diversity fellow excited to work with you on a course that will enable students to value diversity.
Civic Engagement
Dr. Maia Bailey, Associate Professor of Biology
mbailey9@providence.edu
Course experiences that encourage civic engagement are at the heart of our mission at Providence College. My charge as the Civic Engagement fellow is to help my fellow faculty envision how civic engagement components can help them meet their course goals, make connections between faculty and our service partners, and to broaden to opportunities for students to fulfill their civic engagement requirement. I encourage you to contact me if you are interested in developing a new civic engagement course or revising an existing course. I look forward to working with you to brainstorm ideas, identify service partners, articulate how your course meets proficiency standards, and more.
Oral Communication 
Megan Chang, Assistant Professor of Voice & Diction
mchang@providence.edu
Look at any list of people's top fears, and public speaking is always right up there with heights, clowns, and spiders. That's why the Oral Communications Proficiency is so vital to our students; they must be able to communicate with the world around them in a way that is lively, interesting, and effective. I invite you to contact me to discuss how oral presentations (in a variety of forms) can not only benefit your students, but also your course as a whole.
Writing
Jessica Tabak, Visiting Assistant Professor of English & Writing Specialist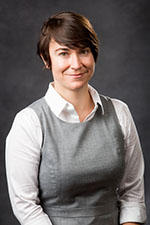 jtabak@providence.edu
Process-driven writing inspires critically-engaged learning across disciplines. By drafting, revising, and refining our thoughts in writing, we deepen our understanding of the issues we study and crystallize our responses to them. As the Writing Fellow, my goal is to help you effectively integrate process-driven writing into your courses. Please contact me if you'd like to discuss strategies for making writing a fundamental part of your in-class activities and long-term assignments. I look forward to working with you to help students develop, organize, and express their ideas in writing, whether they're interpreting scientific data, analyzing political measures, or proposing business plans.