Teaching Award Recipient, 2018-19
Dr. Edward E. Andrews
History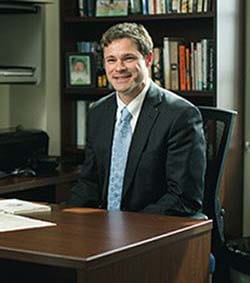 "I love my job as a teacher because I love learning. I feel blessed to work in a position where I not only get to share my knowledge, but also learn from others as well, including my colleagues and especially my students. They constantly challenge me to rethink how I understand the past, communicate that understanding to others, and recognize what's important about it. It seems simple, but it's an exhilarating thing to be learning everyday; for me, this often doesn't feel like a job at all.
I know that not everyone coming into my class is going to be a "history buff" (a term I always thought was kind of strange anyways). In fact, because I teach core courses like DWC so frequently, I'm well aware that the majority of my students are there to fulfill requirements. But I relish the opportunity to get them excited about a field that perhaps they may have misestimated. Whether through self-deprecating humor or awkwardly placed pop culture references, I try to make history engaging and accessible, but I also use that engagement as an open door through which we can venture into more complicated problems and issues.
Ultimately, I want to show our students the dynamism and excitement of studying history, and that being a historian is not just about rattling off lists of presidents or names of famous battle sites. Instead, it's about carefully evaluating all evidence to wrestle with and confront our shared past, an experience that can simultaneously be hopeful and hurtful, prideful and tragic, heartbreaking and inspiring. The skills we develop in these courses – deep analysis of texts and images, honing their communication skills, and sharpening their writing– are ones that I hope they'll take with them even after they've forgotten some of the finer details they learn in my classes. I truly hope that when they leave PC, my students will not only be grounded in a deeper understanding of history, but also equipped with the tools to make it themselves."
Please join us in congratulating Dr. Andrews on this prestigious honor.