Teaching Award Recipient, 2017-18
Eric Sung
Photography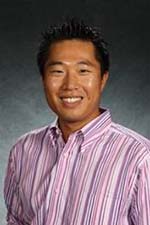 "Some of my goals as a professor are to support my students to develop critical thinking skills, while empowering them to use these tools outside the classroom environment, through visual problem solving and an appreciation of the centrality of aesthetic expression in the life of the mind. To achieve these goals, my highest priority is to excite my students about the possibilities they have within themselves to create. Also, it is important to integrate technical skills with the mastery of other bodies of knowledge, such as feminist practice, or race and social class relations. Addressing contemporary issues is crucial for students' understanding of the interconnections of art-making with everyday life.
My class does not end during the finals as students are encouraged to show their works in settings beyond the classroom. This practice can take place in an online exhibition or an actual showing of their work in off-campus venues. Students are further empowered when they begin to connect and apply their education from my class in real-world situations. I care deeply about how my students plant a seed for greater learning going forward beyond the course.
Teaching photography and art for me is to support students to celebrate as well as empower their own unique vision so they may continue to be active and engaged thinkers of our community. It is the most rewarding to see students achieve their goals beyond my class with help of further developing what they have learned in their place."
Please join us in congratulating Mr. Sung on this prestigious honor.