The Joseph R. Accinno Teaching Award
The Joseph R. Accinno Faculty Teaching Award is presented annually to the faculty member who best exhibits excellence in teaching, passion and enthusiasm for learning, and genuine concern for students' academic and personal growth. Faculty who have received tenure and are scheduled to teach during the spring 2015 semester are eligible for the award. The award program is administered by the Center for Teaching Excellence and the Teaching Award Selection Committee (TASC). The recipient receives a cash stipend, is formally acknowledged at the College's Academic Convocation in September, and has his or her name inscribed on a plaque that is permanently displayed in Phillips Memorial Library.
Teaching Award Recipient, 2014-15
Dr. T. J. Harper
Music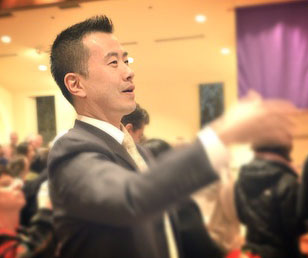 "After a choir rehearsal, conducting class, or private lesson I feel invigorated and refreshed. I am passionate about teaching and I am in my comfort zone when working with students of all ages and levels of ability. My teaching philosophy is a direct result of my joy and enthusiasm for choral music and my desire to effectively teach and inspire my students. I have a firm belief that all students are capable of excellence and deserve the highest level of instruction available. Furthermore, I value the significance and complexity of the course material in choral music, which I feel offers tremendous potential for interdisciplinary education and insight in higher education.
As a teacher, I realize that I am most effective when I combine a high-level of preparation with the spontaneity necessary for running a rehearsal, leading a class discussion or demonstrating conducting technique. I believe in and rely on a level of organization that defines the course objectives and clearly outlines how these objectives will be met. My classroom, while orderly and focused, is alive with energy that encourages personal growth and active participation. Because choral music is participatory in nature, an existing pitfall would be to let the educational experience cease when one has achieved correct pitches and rhythms."
Please join us in congratulating Dr. Harper on this prestigious honor.