Resource Collection and Links for College Teaching
The CTE maintains a library of books, articles, newspapers, journals, and videos on a range of topics related to teaching and learning. These are available for loan to faculty members and are located in the CTE, Feinstein Academic Center, Room 304.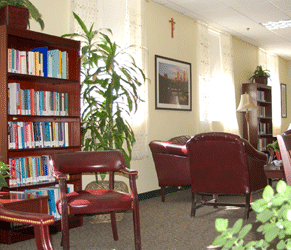 CTE Library
All CTE books and periodicals are catalogued in HELIN. A full list of holdings is available at the CTE office in Feinstein Academic Center 303.
Sample of New Books in the CTE Library:
Optimizing Teaching and Learning: Practicing Pedagogical Research
Regan A.R. Gurung and Beth M. Schwartz
Wiley-Blackwell 2009
Teaching and Learning Outside the Box: Inspiring Imagination Across the Curriculum
Edited by: Keiran Egan, Maureen Stout, Keiichi Takaya
Teachers College Press 2007
Enhancing Learning Through the Scholarship of Teaching and Learning: The Challenges and Joy of Juggling
Kathleen McKinney
Anker Publishing 2007
Creating Significant Learning Experiences: An Integrated Approach to Designing College Courses
L. Dee Fink
Jossey-Bass 2003
Excellence in College Teaching and Learning: Classroom and Online Instruction
George Henderson and Susan Smith Nash
Charles C. Thomas Publisher, Ltd. 2007
Teaching with Classroom Response Systems: Creating Active Learning Environments
Derek Bruff
Josey-Bass 2009
Periodicals and Newsletters
The Center for Teaching Excellence subscribes to several periodicals and newsletters for faculty use and research. Below is a listing of several subscriptions available to faculty that are housed in the CTE office. For more information, contact x1340.